Below is the link for the Creeper World Map Editor. With the map editor you can create your own maps, experiment with crazy ideas, make your own set of maps with your own story, and when you have something cool you can post the map here at knuckle cracker to share with others!

Make sure you have the latest version of Creeper World to play the game. The map editor is totally free but you do need the full version of the game to play the maps you and others create.

After you download the map editor, just double-click to install it. The editor requires Adobe Air, but you will already have this installed since you already have the game installed.

Now... go forth and create some tail-kicking maps!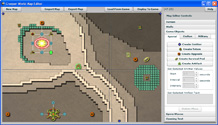 CreeperMap-0380.air